Why Quilting?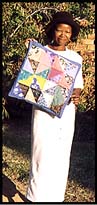 In South Africa there is presently a desperate need for disadvantaged people to develop skills that will enable the to either find employment or to alternatively become self employed. As Africans we often have an inherited artistic flair and all we sometimes need is a little self belief and coaching to get us going.

Often the type of skill developed is less significant that the fact that a commercial skill has been developed. Quilting offers people the opportunity to create an exportable product which combines traditional American quilting with traditional Africa artistic impression.
The African Quilt

Even though most of our quilts have been in the traditional American designs we have now started creating quilts with an African theme. We will publish images of our quilts as soon as they are available. All our quilts are 100% hand made. We do not use any machinery in our creation of our unique quilts. This ensures that each quilt is a totaly unique creation caring the specific style of its creator.

You can view our quilts for sale or further information by clicking on the apropriate links.